Projects
Since the company's establishment in 2000, ECA has successfully completed hundreds of environmental projects throughout Nova Scotia. Want to see what were doing right now? Check us out on
Linkedin

Link to our restoration map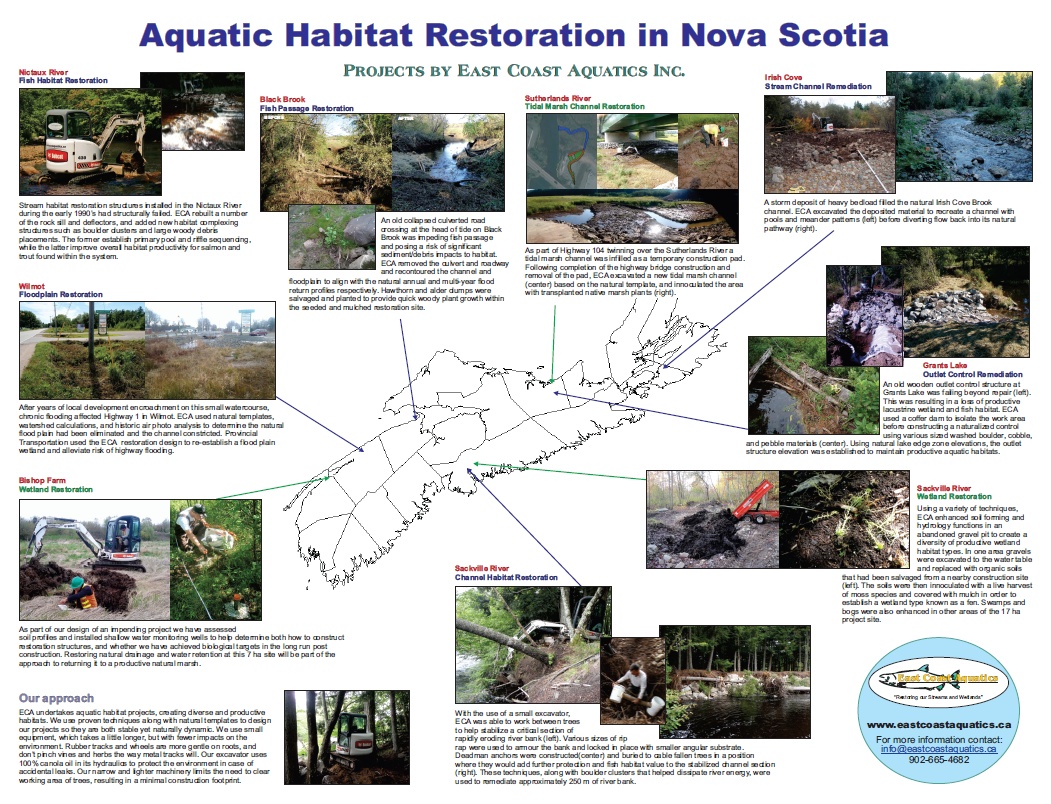 Gulf of Maine Council 2018 Visionary Award

The Gulf of Maine Council on the Marine Environment, created in 1989 by the governments of Maine, Massachusetts, New Brunswick, New Hampshire and Nova Scotia, works to foster environmental health and community well-being throughout the Gulf watershed. The mission of the Gulf of Maine Council is to maintain and enhance environmental quality in the Gulf of Maine to allow for sustainable resource use by existing and future generations. The Visionary Award recognizes innovation, creativity, and commitment to marine protection by businesses, environmental organizations, or individuals who are making a difference to the health of the Gulf of Maine.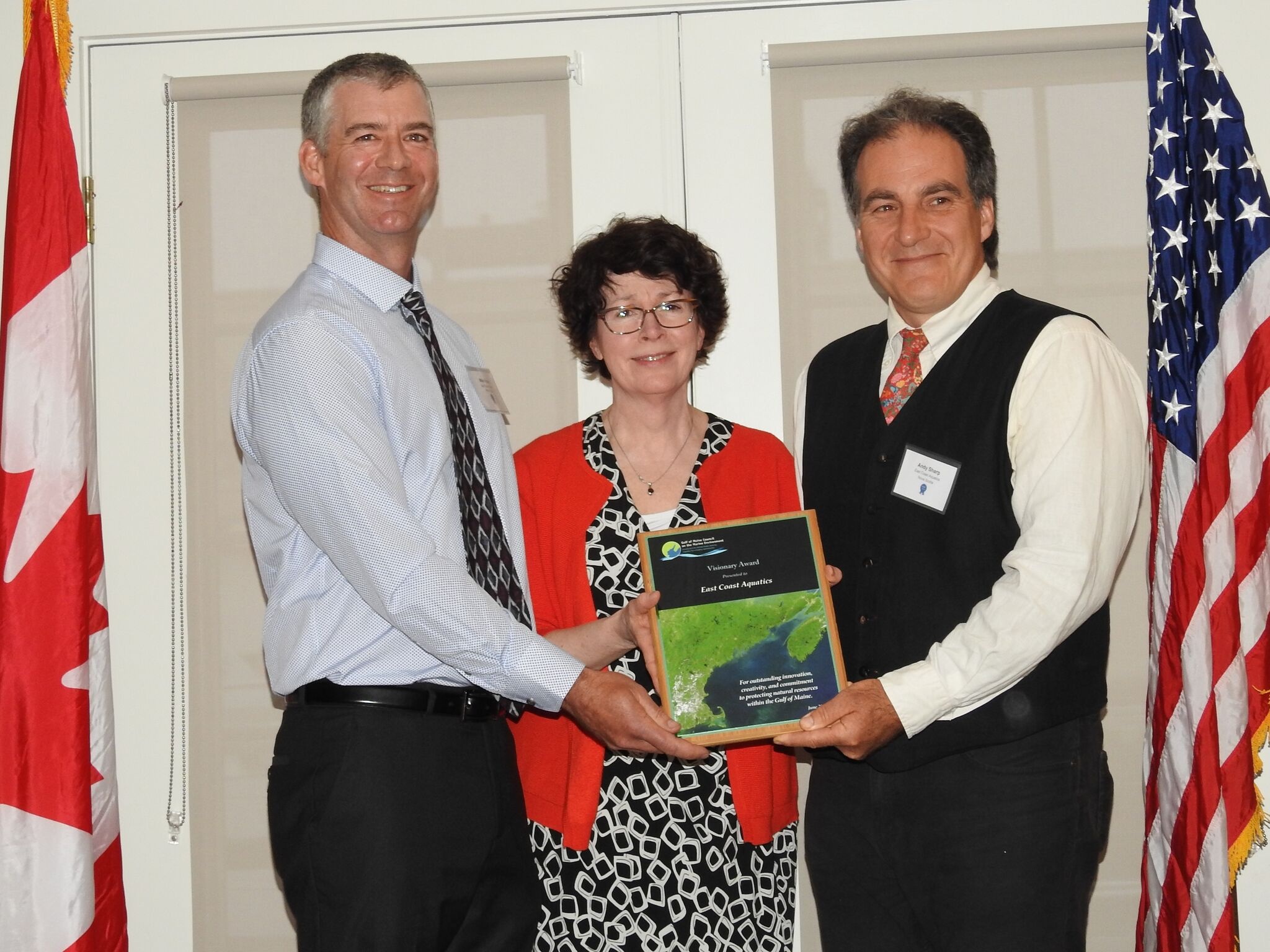 "Mike Parker and Andy Sharpe of East Coast Aquatics have been an integral part of the restoration of Big Meadow Bog, on Brier Island, Nova Scotia. This 60-hectare peatland is one of the last remaining places on earth where the Eastern Mountain Avens continues to sustain itself despite poor condition of the bog complex. Mike and Andy helped design and carry out the engineering for this innovative restoration plan to return historic water level dynamics to the bog complex for the Eastern Mountain Avens Recovery Team. This was a long and complicated process that involved installing 100s of ditch-blocks to raise groundwater levels, re-profiling 3,700 meters of steep ditch edges to return some of the historic microtopography across the site and reestablishing more than 6,400 square meters of pond habitat in places the community used for hunting and gathering in the past. Despite all the complexities and difficult working conditions associated with the project, Mike and Andy never wavered in their commitment to achieving the goals of the plan and always maintained a "can-do" attitude. The restoration completed by East Coast Aquatics will lead to raising of the water table and reestablishing water level dynamics that are similar to what were present at the site pre-1958 when it was ditched for agriculture and the decline of the health of the bog complex began. Thanks to East Coast Aquatics' efforts, the project partners expect to achieve their vision of restoring the Big Meadow Bog wetland ecosystem, leading to the recovery of sustainable populations of Eastern Mountain Avens and associated historic and rare plant communities."
-Gulf of Maine Council on the Marine Environment 2018 Visionary Award Ceremony
[Photo: left to right- Mike Parker (ECA), Norma MacIsaac (Senior Director at NS Department of Intergovernmental Affairs), and Andy Sharpe (ECA) receiving ECA's GOMC Award]
ECA Case Studies
Interested in knowing more about what we do? See our case studies below!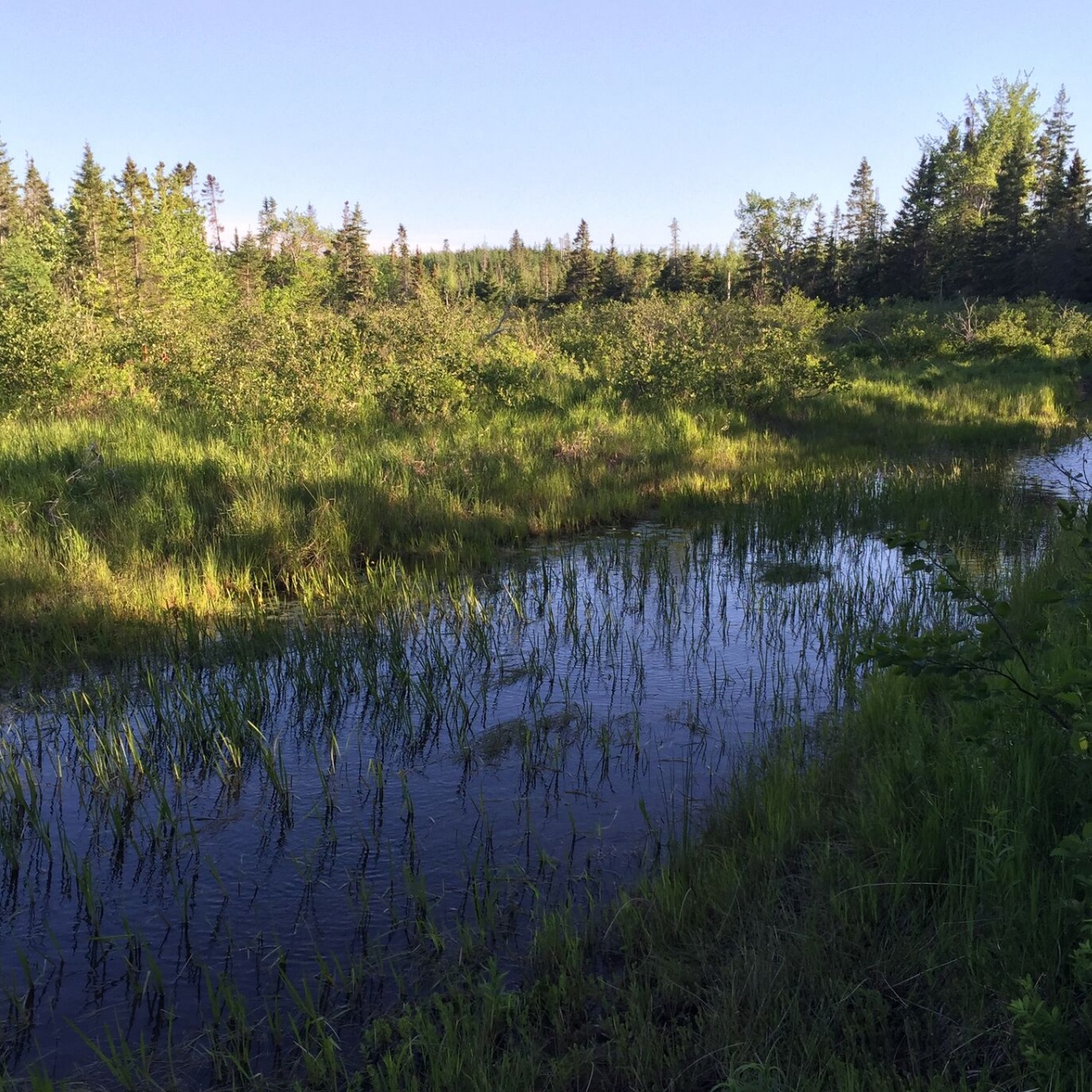 Sackville River Wetland Compensation
2009 - Present
ECA completed the assessment, design, and construction of a 17 ha wetland compensation project within a former gravel pit site. Federal and Provincial permits and approvals were secured to allow construction to be initiated. Using compact machinery with a light footprint, construction of structures to enhance hydrology and soils forming functions at the wetland were completed in 2015. Monitoring of changes to soils, hydrology, and plant communities is ongoing. Radio telemetry tracking of the Provincially and Federally listed Wood Turtle was carried out in order to identify significant nesting, overwintering and foraging habitats near the project area, allowing incorporation of this species' needs into the project design.
Big Meadow Bog Restoration
Design and Construction
2015 - 2019
ECA was retained by the Eastern Mountain Avens Recovery Team to complete the hydrologic restoration design for the 58 ha Big Meadow Bog. The Eastern Mountain Avens (Geum peckii) is a globally endangered plant found only in two locations in the world, one being Big Meadow Bog. Ditching and draining of the bog in the late 1950s led to the lowering of the water table, with adverse impacts to the Aven's population and ecology of the bog.
ECA undertook field evaluations of impacts; a ditch-blocking trial to gather empirical data on water levels; and an assessment of historic site changes in order to develop a phased restoration design. Prescriptions included of 120 peat based ditch blocks, 3.7km of ditch re-profiling, and removal of woody plants as measures to restore hydrology and reactivate historic lagg channels. Restoration began in the spring of 2016 and was completed in the fall of 2017.
[Above photo credit: Mike Dembeck @ mikedembeck.com]
Full Report: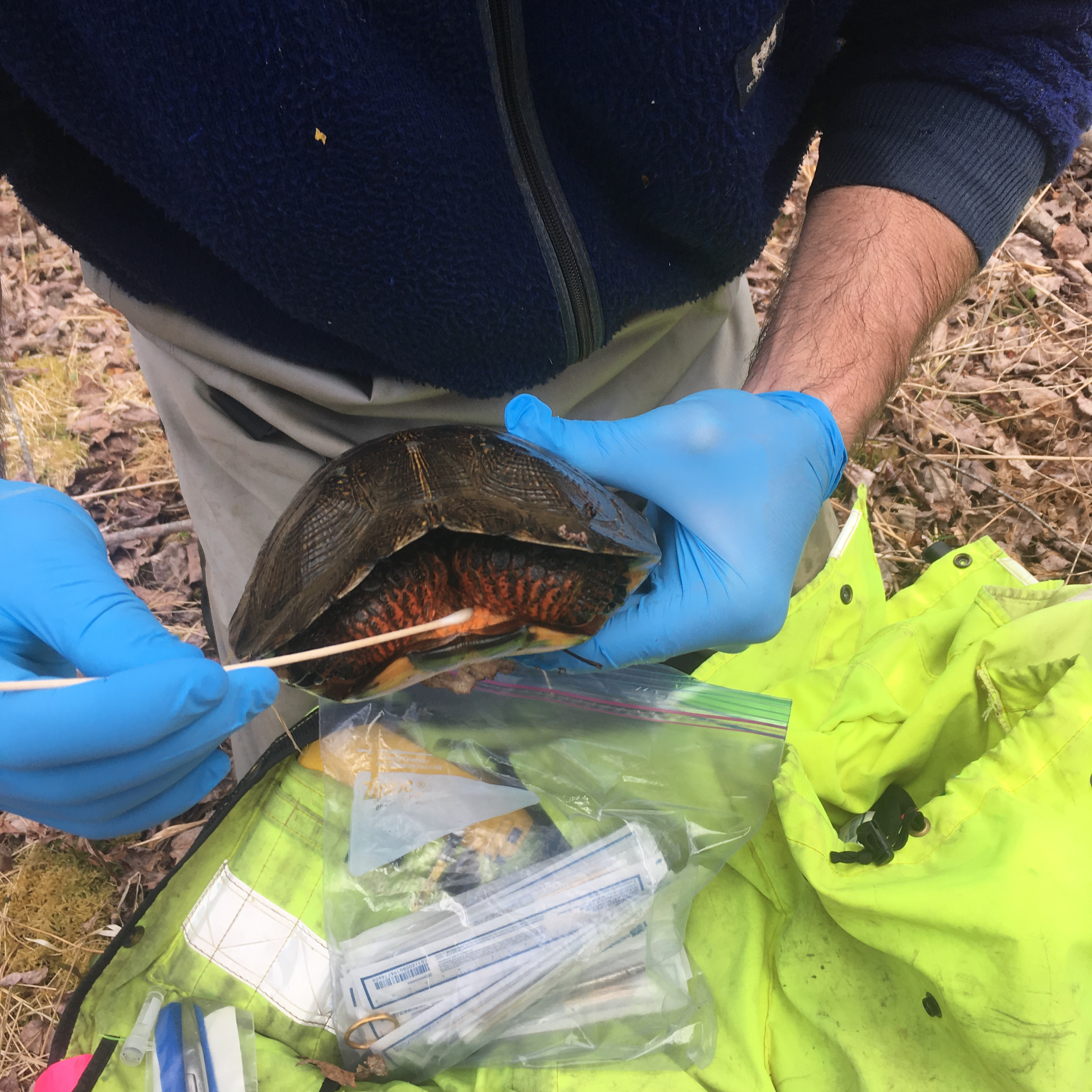 Wood Turtle eDNA
2019-2021
We have been developing an environmental DNA (eDNA) tool for the identification of Wood turtle (Glyptemys insculpta) habitat in Nova Scotia. This Federally and Provincially listed Threatened species is the most terrestrial of our turtles, spending much of the year away from water. In 2019 we collected DNA swabs from turtles around the province and worked with the Helbing Lab at the University of Victoria to develop a primer for Wood turtle DNA. With this primer we can collect a water sample from a stream and test it for Wood turtle DNA. A positive test means that it is likely turtle are somewhere upstream. An exciting new tool for an aquatic species that is often difficult to find!
We are currently testing sampling designs to determine the spatial and temporal requirements for Wood turtle eDNA sampling to maximize the likelihood of confirming their location within a watershed. Both the primer and the sampling design will be made available from this page for use by other conservation users once testing is completed.
For more ECA projects and reports click on the following links